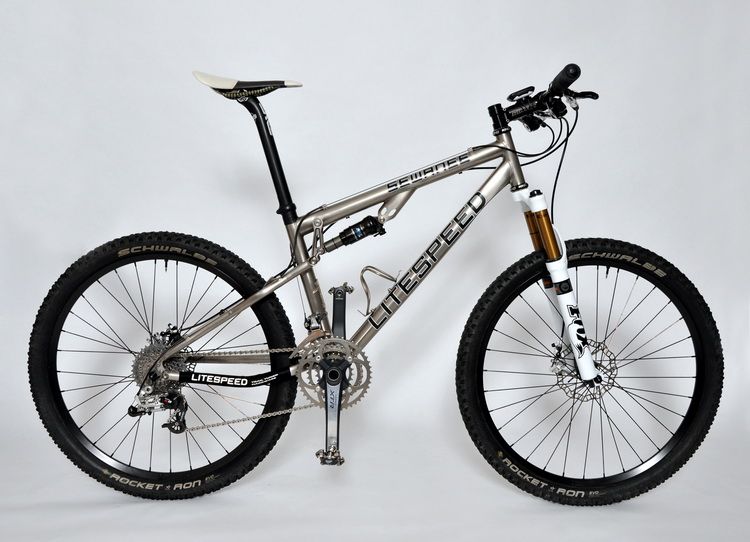 I was dreaming a lot about a titanium mountain bike and this one has become true. It`s opened the doors to a conservative and incredible world of hand-built and welded titanium frames and cutting-edge titanium components. After a long time of searching, I decided on the company with a long history - Litespeed Sewanee.
What to say about the frame. It`s a hand-built titanium full-suspension frame from the U.S.A. with a FOX FLOAT RP23 Boostvalve shock (originally used DT Swiss XR Carbon shock that I swapped with FOX one). The frame concept was updated by the Litespeed factory in 2010 at least and this is the model I ride. I replaced all original suspension pivot bearings with the Enduro MAX alternative in my home workshop.

The FOX shock is fixed within the frame with the Amachete roller kit. A place of the fork has been occupied by a reliable product of FOX Racing Shox - F100RLC Disc PROTUNE version, which is a standard RLC model with a FOX factory Protune tunning. The upper fork legs have been replaced with the newest ones having a Kashima surface. All control knobs have been re-anodized in black.

For this project, I`ve selected classic XC disc brakes SRAM Avid X.0 in silver edition with carbon levers, Matchmaker X clamps, and all-black titanium bolts. Ashima rotors (160/140) and Extralite titanium disc bolts complete the brake set.

SRAM X.0 trigger shifters used with this setup were fixed together with the brake levers (using Matchmaker X clamps). The shifters have been tuned with carbon shifter levers (by Z-Components), the body and small parts re-anodized to black, and removed SRAM logo.

Gearshift cables and synthetic inner liners have been produced by Shimano (XTR) and PowerCordz. I`ve tuned SRAM X.0 rear derailleur with Carbonice carbon pulleys (inc. ceramic bearings) and a custom carbon inner cage.
Other bike components came from Extralite (stem and seat post clamp), 3T (carbon XIDA Team handlebars), ESI grips, cutting-edge Enve offset seat post, legendary ChrisKing (NoThreadSet Series) headset, and other top-line Shimano XTR bike components.

The Hollowtech Shimano XTR crankset has been completed with a full set of titanium X-Ring MTB Full-Ti chainrings by Italian`s CarbonTi. The original chainring bolts have been replaced by CarbonTi (X-Fix MTB series). The Shimano XTR bottom bracket has been upgraded with Enduro`s Zero Ceramic bearings. The Shimano XTR clipless pedals have been tuned with ActionTec titanium spindles.

Titanium got more opportunities to cover some other bike components, such as titanium water bottle cages by MT Zoom (Titec) or carbon/titanium tune DC16 and AC17 quick releases. Naturally, almost all bolts have been replaced with their titanium variants.

I first used the tune Speedneedle saddle at my Trek and since then I have been pretty sure that the saddle has to come on Litespeed too. From my point of view, this lightweight saddle is very comfortable for riding either on a hardtail or fully (I feel better than on SLR TT), though. Therefore I`ve chosen the tune classic Speedneedle Marathon saddle again.

A specific chapter of this project is a set of custom-built wheels. They have been built on brand new Extralite HyperHubs 2011 with Enduro Zero Ceramic bearings, Sapim CX-Ray spokes, and Sapim aluminium nipples. Normally I replace the bearings in my home workshop.
The rims have been produced by NoTubes - a new ZTR Alpine edition. I used NoTubes rim tape and valve stems. The wheels run on Schwalbe Rocket Ron tubeless tires in a 26x2.1" version with a NoTubes sealant. A complete set of wheels weighs 1242 grams.
Specification
frame
Litespeed Sewanee /Enduro MAX bearings
fork
FOX F100RLC Disc 2008 Protune
shock
FOX FLOAT RP23 Boostvalve /Amachete roller kit /Ti bolts
headset zone
   headset
Chris King NoThreadset
   top cap/bolt
CarbonTi /aluminium bolt
   headset spacer
Extralite
crankset
   crankset
Shimano XTR Hollowtech II
   chainrings
CarbonTi X-Ring MTB Ti /Ti bolts
   bottom bracket
Shimano XTR /Enduro Zero Ceramic bearings
shift zone
   gear shifters
SRAM X.0 Trigger Shifter /Avid Matchmaker X
   cables/housing
PowerCordz/Shimano XTR
   front derailleur
Shimano XTR M961 /titanium bolts
   rear derailleur
SRAM X.0 /Carbonice ceramic bearing pulleys
   cassette
Shimano XTR Titanium
   chain
KMC X9SL
wheels
   hubs
Extralite HyperHubs /Enduro Zero Ceramic bearings
   quick releases
tune DC16, AC17 Titan/Carbon
   rims
NoTubes ZTR Alpine /NoTubes valves and rim tape
   spokes/nipples
SAPIM CX Ray /SAPIM nipples
brakes
   front brake
Avid X.0 /titanium bolts
   rear brake
Avid X.0 /titanium bolts
   brake levers
Avid X.0 /Avid carbon levers
   front brake disc
Ashima AiRotor 160mm /Extralite Ti bolts
   rear brake disc
Ashima AiRotor 140mm /Extralite Ti bolts
   hydraulic hose
Avid
pedals
   pedals
Shimano XTR SPD /ActionTec titanium spindles
control
   handlebar
3T XIDA Team 31,8/640mm
   grips
ESI Extra Chunky
   handlebar ends
---
   stem
Extralite UltraStem OC 110mm /Extralite Ti bolts
seat zone
   seatpost
Enve 31,6/400mm
   seatpost clamp
Extralite UltraClamp /Extralite Ti bolt
   saddle
tune Speedneedle Marathon
tyres
   front tyre
Schwalbe Rocket Ron UST 26x2.1" EVO Kevlar
   rear tyre
Schwalbe Rocket Ron UST 26x2.1" EVO Kevlar
   tubes
---
others
 
MT Zoom (Titec) titanium water bottle cage /Ti bolts
 
a custom badge on seat-post tube
 
NoTubes sealant
 
Litespeed chainstay neoprene protection