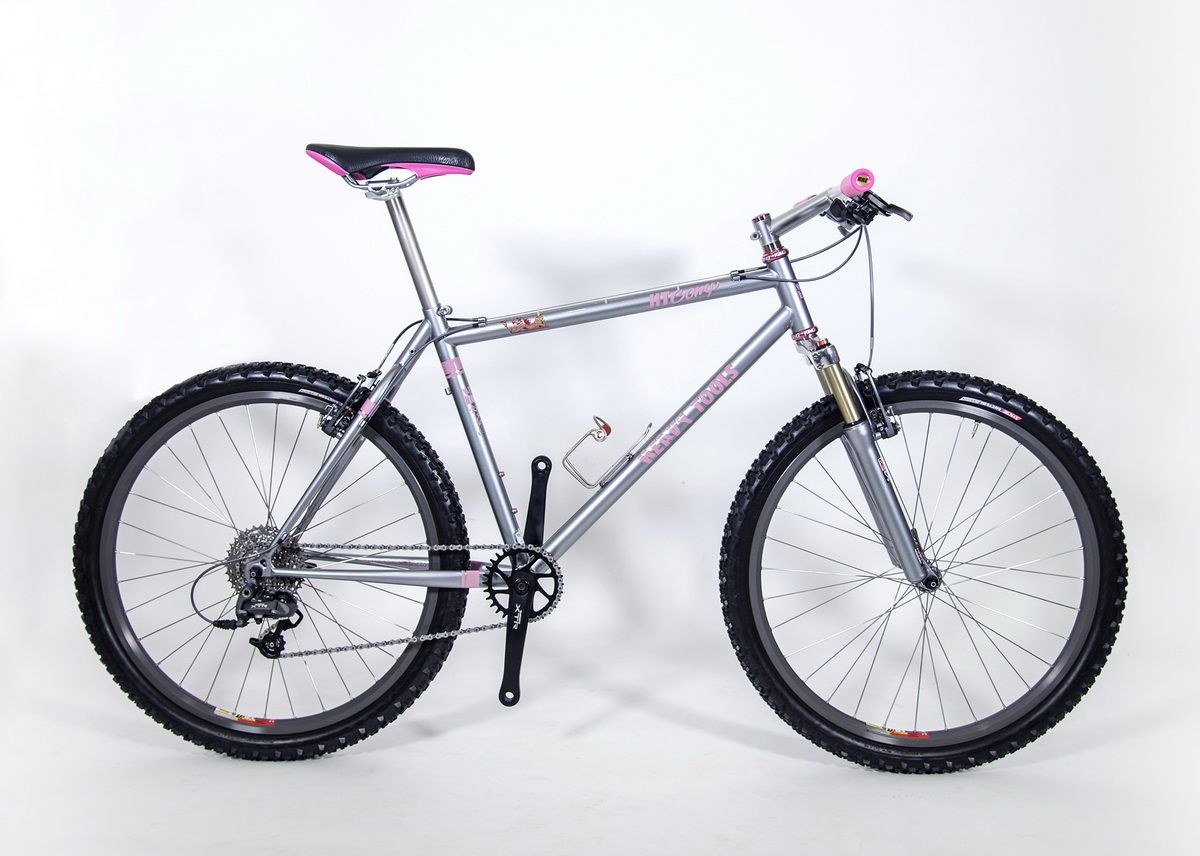 I owned Heavy Tools HT Comp first in mid of the 90s. It was one of my favourite mountain bikes ever. At the beginning of 2017, I got a nice chance to have one again. I decided to buy a frame and expand my "retro" collection with a new bike. In addition to that, I finally wanted to carry out one personal dream that came true – a bike in silver/pink colour. Please, welcome Heavy Tools HT Comp.
I built this bike on a solid steel frame made from Tange tubes by Heavy Tools in 1992. The overall condition of the frame was good; however, I made some restorations before re-spraying it. I did not even think about the "periodic-correct" build, thus I have had a free hand. I removed the rear brake cable hanger from the frame, while the front derailleur cable stops remain in place (what if in the future). All Heavy Tools decals have original sizes and shapes, but custom colours. The only exception is one at the seat tube. This one is my custom original and expresses my warm relationship with the bike: "Ride it with Love".
I rode this bike with suspension forks, but not the Rock Shox Judy XC. The Rock Shox forks came from my younger bike used late in the 90s. I re-spray it in silver to match the Heavy Tools frame and I did complete fork service. As I wrote in another place of my blog, I have changed all bolts to titanium, as well as swapped the steerer, so now the forks are the SL edition. All in all, it`s still one of the best cross-country forks made in the 90s ever.
A 1x9 drivetrain is the most interesting part of the whole rebuild, though. It is based on Shimano XTR M952 components, which made me so complicated to accomplish it. Shimano XTR FC-M952 cranks were never ever made as spiderless-capable. I found Garbaruk (UKR), who solved my problem. They made custom direct-mount chainrings for these cranks. Apropos – cranks. I did a good job on them. I removed the old paint and brushed the legs well, then I let them anodise in black. The "XTR" logo has been lasered after. In addition to that, I cleaned and replaced three small cogs in a 9-speed XTR cassette and I made full service of a bottom bracket.
The Shimano XTR M952 group has been completed with a rear derailleur, a set of brake/shift combo with the left-hand brake lever only, a set of front and rear brakes, and original XTR grey brake/shift cables. Both brakes got new brake pads.
Next pit stop - wheels. I built them on Shimano XTR hubs. The front hub was in great condition with no service required. I replaced a cone in the rear hub. I wanted to build the wheels with Mavic XM317 rims, but then I found on "evil bay" a pair of new, never used Mavic D521 rims that fitted my expectations better. Do you remember, late in the 90s were offered the new-coming discipline of Enduro and light downhill? Finally, I laced the wheels with DT Swiss spokes and nipples. On top of that, I run legendary Ritchey Z-Max tires in a 2.1" version.
Pink is fully supported by ESI grips and bar plugs, and all scuff guard bits at the Fizik Nisene saddle. Well, these guards were originally red, but I did manage to get the pink. Pink water bottle cage bolts are a must. It`s a pity, but I haven`t found yet the seat post binder bolt in pink. I used silver ControlTech instead.
Chris King's NoThreadSet headset is the icing on the bike. That was my very first and the most important piece of the built-in pink anodization because CK announced the discontinuation of all parts production in pink.
Not to be pushy so much, I chose classic silver handlebars KORE, silver (at least for me) unknown stem, and titanium seat post PMP. Headset spacers are titanium, too. Almost all screws on the bike are originals. Screws in the stem and seat post binder are titanium.
I like this bike, although the painting is not perfect and you may find some small issues here and there. I`m satisfied…more than that, I`m happy. One dream came true.
Specification
frame
Heavy Tools HT Comp
fork
1996 Rock Shox Judy XC /titanium bolt kit
shock
---
headset zone
   headset
Chris King NoThreadSet
   top cap/bolt
Chris King NoThreadSet /titanium bolt
   headset spacer
titanium
crankset
   crankset
Shimano XTR FC-M952
   chainrings
Garbaruk Direct Mount 30T Custom
   bottom bracket
Shimano XTR BB-M950
shift zone
   gear shifters
Shimano XTR ST-M952
   cables/housing
Shimano SIS-SP41
   front derailleur
---
   rear derailleur
Shimano XTR RD-M952
   cassette
Shimano XTR CS-M953
   chain
Shimano CN-HG93
wheels
   front hub
Shimano XTR HB-M950
   rear hub
Shimano XTR FH-M950
   quick releases
Shimano XTR
   rims
Mavic D521SUP /Schwalbe rim strips
   spokes/nipples
DT Swiss Champion /DT Swiss
brakes
   front brake
Shimano XTR BR-M950
   rear brake
Shimano XTR BR-M950
   brake levers
Shimano XTR ST-M952/BL-M950
   cables/housing
Shimano XTR
pedals
   pedals
---
control
   handlebar
Kore Elite Easton /extender bar plugs
   grips
ESI Chunky
   handlebar ends
---
   stem
unknown /titanium bolts
seat zone
   seatpost
PMP Titanium
   seatpost clamp
ControlTech /titanium bolt
   saddle
Fizik Nisene Custom
tyres
   front tyre
Ritchey Megabite Z-Max, 26x2.1" Kevlar
   rear tyre
Ritchey Megabite Z-Max, 26x2.1" Kevlar
   tubes
Maxxis Ultralite
others
 
Elite Gucci Stainless Steel bottle cage /aluminium bolts
 
Lizard Skins Chainstay Protection
 
ADP Carbon Brake Booster /titanium bolts