nakamura vertical
This project was something I did exceptional for one of my best friends. Normally I do not do such things, however, when I saw a pretty nice old 1994 Nakamura Vertical, that was an impulse to say "yes, I can do". The Nakamura Vertical MTB made a great platform to start a new restoration project and safe one more retro bike for next years.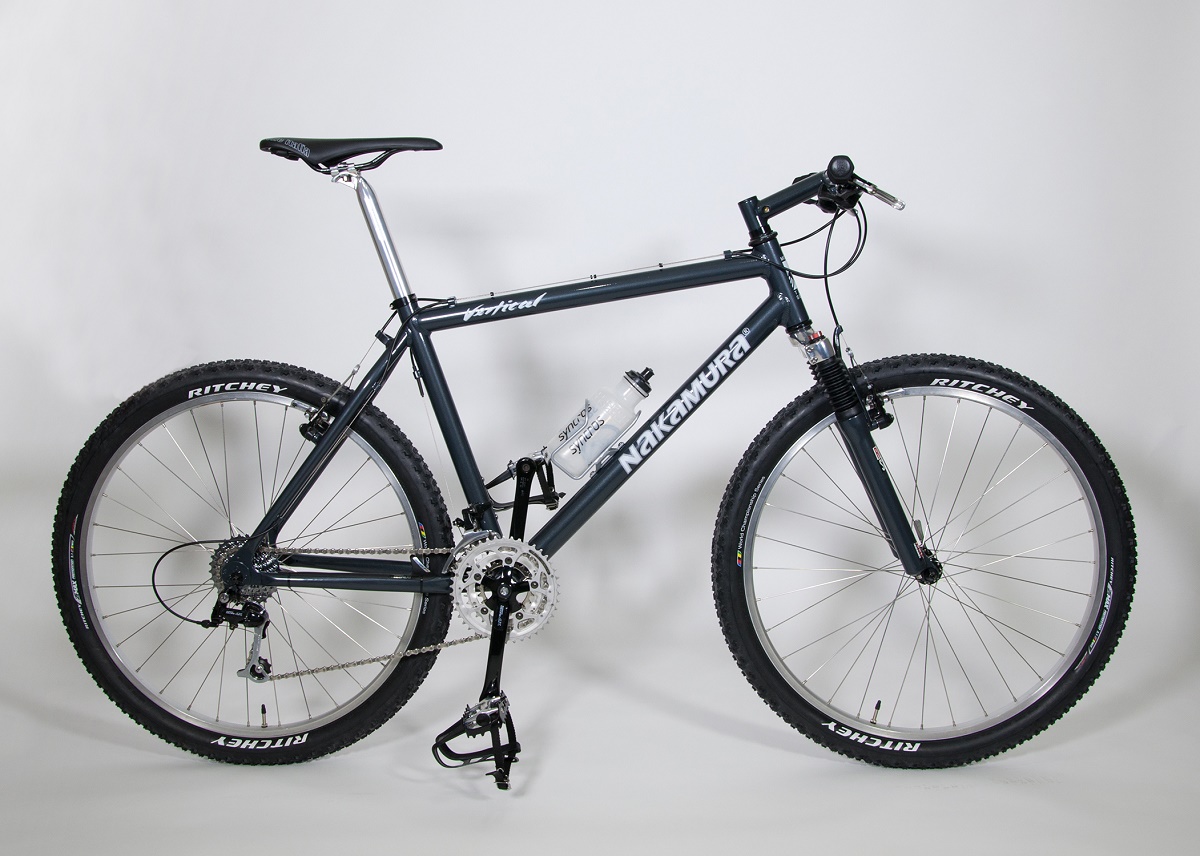 The 1994 Nakamura Vertical MTB is a classic aluminium frame-based hardtail from mid of 90`s. It came to me with nice original painting (dark blue with light blue stickers), however, the best time of the painting was far away. I stripped down the old painting and made up a new one. Meantime I cut off hangers for rear carrier and found some issues on the frame, thus I applied here and there some body to fix scratches and prepare the frame for new painting. After long discussions we finally selected Audi Dolomite Grey colour. Once done, I created and applied a new set of Nakamura Vertical decals in light grey/white combination.

The 1996 Rock Shox Judy SL suspension forks option was the one that had been originally requested at the beginning of this project. The bike came to me with a steel rigid fork; however, we decided to change it. As a result of our discussions, we decided to re-spray Judy`s lower legs in Audi Dolomite colour, too. Anyway, a whole story of the forks facelifting process has been written in this article, check this out.

Let`s start my technical review with a Shimano Deore LX group set. Almost all bike components came from this mountain bike group originating in years 1994 and 1995. Shimano Deore LX FC-M563 5-arm crank set with original Deore LX chain rings and BB-UN51 bottom bracket, ST-M563 brake-shift-integrated combo levers, BR-M560 cantilever brakes, FD-M563 and RD-M565-SGS front and rear derailleur respectivelly and both Deore LX HB-M563 and FH-M563 hubs. Unfortunately, the original Deore LX CS-HG70 cassette, as well as CN-HG50 chain, had been longer "ready-for-trash", thus replaced by their newest versions.

At this point I must notice that many Deore LX components were at the beginning in bad condition and I did all my best to repair and fix all issues happened to them. All Deore LX parts have been perfectly cleaned and polished, while some of them have been partially or completely re-sprayed (e.g. crankset or rear derailleur), or hard chromium plated (e.g. small 22T chain ring and some bolts). I replaced damaged or missing parts. Some parts are "new-old-stock" (e.g. replaceable cartridge brake shoes M65/T)

Let me say few words about stem and headset. The original Control Lite stem (could it be ControlTech stem?) was in very bad cosmetic condition. Instead of chromium re-plating, I decided to re-spray it in Audi Dolomite Grey colour.
The original 1994 Dia-Compe USA Ahead set has been reassembled back in its proper head position. The headset looked fine inside, thus it has been just cleaned and polished.

Tom Ritchey. The mountain biking legend and pioneer. When I was thinking about other non-Shimano components for this bike I realized that Ritchey`s components can be very good choice. Ritchey Classic offset seatpost (31,6/350mm), Ritchey CompLite old-school handlebar (25,4/570mm), Ritchey WCS True Foam grips and Ritchey WCS Z-Max Premonition tyres (26x2,1") made up the bike.

This project was something I did exceptional for one of my best friends. I enjoyed every moment when assembling the bike, looking for missing component(s) and repairing or cleaning the part(s).
One dream comes true. My friend is happy with a "new-old" bike. It takes him back to 90`s when he discovered ridding a mountain bike very first time.

And this is what I usually do...a mountian bike you have always dreamt of.
---