DevilWork Cycles
The aim of this project was to refresh legendary glory of Shimano XTR at the mountain bike with many vintage components. I built this bike for easy-terrain and road riding...just for fun.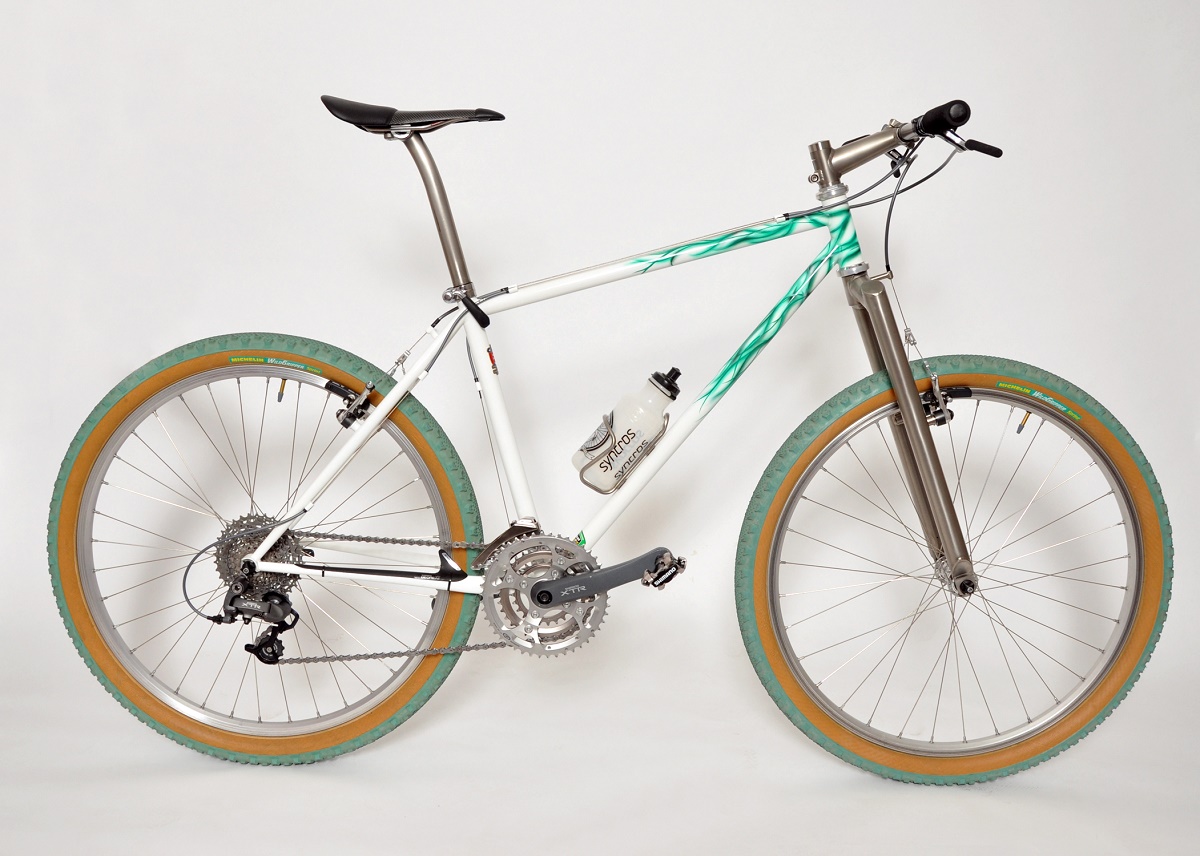 The frame is a stainless steel hardtail, welded from Reynolds 725/853 tubes. It`s a custom hand-made frame welded in Slovakia. Yes, Slovak hands built this frame. I must thank to DevilWork Cycles for all-in-one service, including frame design and welding. The frame supports traditional bridge-style cantilever-brake cable-stop. Frame drop-outs have been machined by Paragon Machine Works. There are classic non-disc-brake version.
Main frame colour is white. My friend airbrushed, of course, custom graphic in Michelin`s WildGripper green. An overall design has been completed with a small custom badge hand-made by Jennifer. Thank you Jennifer. My aim was to point out the national origin of the frame using the national emblem of Slovakia.

It took me longer time than I expected, but finally here it is. Fork is definitely rigid - a titanium piece of art by italian's Paduano Racing. With a custom geometry specification of the fork, the a-c length is 480mm, which corresponds to standard 100mm full-suspension fork. The fork provides custom titanium front cantilever-brake cable-stop and cantilever (V-brake) brake bosses. There is no disc-brake option. It kept unpainted in "raw" finish and with no decals.

Let`s start with a headset. The old men could have mentioned - Chris King NoThreadset should have been the one and the only acceptable option. They`re right, an excellent option with no excuse, but... not in this project. There`s still a good opportunity to buy never used nor mounted Shimano Deore XT HP-M741 headset. This is a thread-set version, I had to mill the threads off of the upper cup to allow mounting on 1 1/8" ahead fork steerer. I used titanium top cap and titanium headset bolt in addition.
I found out two pieces of mountain bike history on Internet - a titanium Titec Fat Head stem and a titanium Titec Pluto Ti 118 handlebar. Handlebar`s width (555mm) no more fits my personal needs, thus I requested a friend of mine to rough out a pair of handlebar extender plugs to extend the handlebar to 600mm. New cockpit has been completed with a pair of Bike Ribbon Leggera Pro grips.
I developed Titec titanium cockpit with a pair of Kooka Racha cantilever brake levers. They had been anodized in green before. Old anodization was removed and the lever bodies were re-anodized again, but now in black. The lever arms had kept without anodization. Small parts were kept unchanged, without re-anodization.

Let`s move on to the seat zone - seatpost, seatpost quick release and saddle. The only acceptable option in this project was a titanium seatpost. Due to bicycle fit optimization I replaced Syncros seatpost by titanium Moots with a setback. Basic info: seatpost diameter 27,2mm, length 340mm and offset of 19mm.
Having chance to ride custom steel frame I thought using an alternative to classic seatpost clamp - a quick release. I had one Shimano Deore XT SQ-M730 quick release that would fit my expectations.
Selle Italia SLR saddle used before at this bicycle has been taken away and changed for tune Speedneedle instead. But the issue was... saddle rails. Speedneedle`s over-sized carbon rails do not fit the Moots standard seatpost clamp. Well, I requested saddle-maker, by chance, for "custom" saddle with titanium rails and... it`s done! At the end, there`s one completely damaged Selle Italia SLR and one tune Speedneedle with the titanium rails.

Shimano XTR M950/952 mountain bike group is the well-known legendary group. The best ever and most beautiful group coming from Shimano. I took the opportunity to re-use some used-parts, but in very good condition, as well as some pretty new parts, never used nor installed.
First in a queue, 4-arm mountain bike cranks FC-M952 Octalink V1 with original 24/34/46T chain rings and bolts. The cranks have been in perfect condition. The Shimano XTR BB-M952 bottom bracket is a must here. A place of 9-cog cassette took traditionally Shimano XTR CS-M953 12 - 34-tooth model. Chain, naturally, CN7701 DuraAce/XTR.
Front FD-M950 Differential Plate and rear RD-M952-GS Middcage derailleur play good game together with road DuraAce SL-7700 bar-end shifters. The shifters have been mounted on Paul Components thumbs. An outer cage of the M952 rear derailleur has been taken off from older XTR derailleur, while inner one has been re-anodized to black. Simply, gear shift cables and housing - Shimano DuraAce/XTR - in DuraAce/XTR grey.
Components from Shimano Deore XT (1994 - 1997) mountain bike group persuaded me to significantly revise brake and wheels philosophy. I mounted complete sets of Shimano Deore XT BR-M737 front and rear cantilever brakes with replaceable M-System cartridge brake pads. Together with the brakes I bought a pair of brand new Avid Tri-Dangle cantilever brake cable hangers and new old-stock Shimano XTR M910 cantilever brake cables and housing.

Cantilever brakes and headset were not the only ones of Shimano Deore XT group used in this project. I built new wheels for that bike on Shimano Deore XT HB-M737 front and FH-M737 rear hubs. Hubs have been cleaned and successfully repaired. They got brand new front and rear cones and bearings. The rear hub has been completed in addition with a new free-wheel body taking from newer Deore XT group. Missing original Deore XT quick releases have been replaced with a pair of Shimano XTR FH-M950 skewers.

The hubs have been laced to classic Mavic XC717 rims using DT Swiss Revolution spokes and SAPIM nipples. Over the top I used Schwalbe rim strips.
In case of tyres I was looking for several MTB options and I have finally chosen. My choice is a pair of Michelin WildGripper Lite S tyres. The tyres are new, never used before. Size of the tyres is 26 x 2,1" (both front and rear) in Kevlar version. Michelin WildGripper Lite S tyres is pure terrain solution. I use this bike more on the road, however.
ROAD version should have the tyres with low profile, very good grip on the road, but still reasonable in light terrain too. I met someone who sold me a brand new pair of Michelin WildGripper Sprint tyres. These awesome Kevlar tyres were never used nor mounted. Both tyre versions rely upon classic system of Michelin Aircomp Latex inner tubes.
Another piece for my retro project is a titanium water bottle King Cage with titanium bolts. I found one appropriate bottle too. It`s new, never used and very rare transparent version of Syncros 500ml water bottle. Indisputable requirement how to secure the frame is to use a "chain deflector" – a Shimano Deore XT DF-M730 Shark Fin. The very last missing piece before completing my new retro bike were Shimano SPD-M520 clipless pedals.

Unlike in all my other projects I used here a minimum of my favourite titanium bolts. I understand that the project is conservative and retro, thus I let all necessary bolts unchanged. The only exception is a set of titanium bolts used for water bottle cage frame mounts and titanium headset cap with a titanium bolt.
I felt very happy when building the bike and I appreciated every moment and every opportunity to buy or to tune the parts used for that project. Although the project finished after two years, I`m glad that I finished it successfully. I ride the bike almost every day and I enjoy every ride. Looks like it becomes my bike No.2.
---